What is a WMS and why is it important to shippers?
Any great warehouse operation today leans on an excellent warehouse management system. A WMS is a software solution that tracks all materials and goods that enter and leave a warehouse, serving a vital role in the management of an efficient supply chain fulfillment process.
By providing clear visibility into inventory at a crucial stage of the supply chain, a WMS ensures that a provider can optimize fulfillment for any shipper using the warehouse. At Star Distribution Systems, a third-party logistics provider with 1.5 million square feet of warehousing in Central Florida, we use our own state-of-the-art WMS to ensure that we run the leanest, most efficient operation possible to serve our clients and their partners.
Here are some of the chief reasons that a WMS is so crucial.
Visibility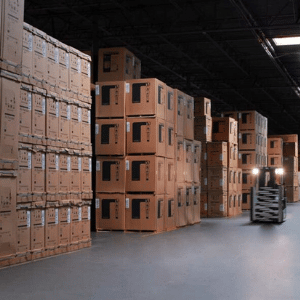 Providers use barcodes, RFID tagging, sensors and other location tools to track inventory digitally with
their WMS. When a product enters a warehouse, it gets entered into the WMS and remains in the system as it is moved, stored, packed for distribution, loaded onto a truck to leave the facility and delivered. For both warehouse providers and their clients, there is no question where an item is when a WMS has it in its sights. A WMS often can integrate with a shipper's other transportation management and logistics software to share critical data. Among the benefits of real-time visibility that comes with a WMS is the ability to react promptly and effectively in the event of a recall.
Order processing
When a product is ordered, the WMS shows whether the product is available. If it is, it is marked ready for packing and warehouse staff are directed where to go to pick and pack it. A WMS provides guidance to creating the most efficient ways to pick and pack products, while also supporting picking technologies that help team members with the picking process. A WMS allows a warehouse to operate leaps and bounds beyond the use of paper documents by making the entire process digital. In this way, the WMS helps speed up order processing and reduces the processing costs and order mistakes that are inherent to a paper document process.
Improving processes
A WMS provides visibility into inventory that helps warehouses improve their processes and better allocate their resources. For instance, accurate, real-time tracking of inventory with Star Distribution's WMS allows us to streamline and hone how our workers pick products and pack orders, creating the best possible travel paths for them. A warehouse provider can use its WMS to adapt its floor plan and organize resources, such as pallets, to accommodate sales patterns in the best possible way. A WMS can help the warehouse provider determine which items should be picked in which order. They also can use the WMS to properly manage perishable stock so that the older items are picked before newer ones.
Strengthening decision-making
An excellent WMS is at the core of strong strategic supply chain decision-making. A WMS can be integrated with a shipper's systems so that they can incorporate the data into their other supply chain solutions. Reports that materialize from a WMS include metrics that can help both shippers and providers with planning and forecasts. A WMS helps shippers track in real time how well their products are selling, so that they can make adjustments in response, such as pushing sales on items that have been sitting on the shelves a long time or replenishing inventory of items that have been selling quickly. This is particularly critical for shippers who employ a just-in-time inventory approach. For providers, the WMS helps determine and plan their labor needs, manage scheduling and ensure team members are properly assigned.
Star Distribution Systems provides 1.5 million square feet of food grade and general commodity public and private warehousing, strategically located on the I-4 corridor in Central Florida. Utilizing our RF proficiencies and our state-of-the-art WMS, we guarantee your merchandise will get in and out without delay. For more information, contact us.